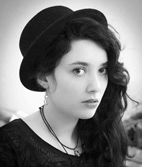 x 
____ 

  I'm Cyra Henn. I'm currently living in Berlin and work as a Motion Designer/ Art Director at MONKEY Pictures. 

My work mainly focuses on motion design and motion graphics – which represent an amazing playground that allows me to combine my love for animation and rhythm with my studies of communication design. I'm keen on constantly extending my knowledge, may it be developing new technical skills or exposing myself to yet unseen inspirational influences. Weapons of choice are the Adobe Creative Suite, Cinema 4D, my sketchbook and brain.
Motion Design & Art Direction // since Feb 2016 
HTW Hochschule für Technik und Wirtschaft // 2015 
Intern Motion and Concept // Aug-Dec 2014 
Intern Graphic Design // Dec 2010


x 
____



clients




Cartoon Network, Nickelodeon, Red Bull TV, MTV, Comedy Central, KCA´s, Objets Trouvés, Calvin Klein, BMW, EFA, Oreo, Vteck, EMAs...